Refuge Omega
installation
2020

L'installation est composée de deux pièces, destinées à coexister dans un même espace. D'un côté un triptyque intitulé Citizen Oméga et de l'autre 8 fois la véritable histoire de la ville d'Oméga, une vidéo combinatoire diffusée sur quatre moniteurs
Synopsis
Un couple de Japonais et leur enfant s'installent dans une ville du sud de l'Inde. En tant que premiers et seuls habitants de la ville d'Omega, ils se préparent à l'arrivée imminente de leurs futurs voisins. Peu à peu, le vernis de cette vie normale commence à s'écailler. Et si les autres n'arrivaient jamais ? Et si le Japon avait disparu ?

Refuge Omega raconte cette histoire étrange et apocalyptique. En même temps, il décrit les difficultés du cinéma à donner forme à cette histoire. Le récit s'arrête, commence, repart et boucle sur lui-même. En un seul récit s'enchevêtrent plusieurs versions possibles d'une même histoire, s'attelant à la construction sans doute aporétique de raconter la perte d'un monde.

Construite à partir des récits imaginaires d'une communauté d'expatriés japonais d'ors et déjà installée en Inde, ces histoires fictives révèlent les angoisses actuelles et réelles qui pèsent sur la durabilité de notre existence terrestre.
Coup de cœur du
Prix du BAL 2017
Finaliste du
Prix Coal 2019
Refuge Omega
installation
2020
The installation is composed of two pieces, intended to coexist in the same space. On one side a triptych entitled Citizen Omega and on the other side 8 times the true history of the city of Omega, a combinatorial video diffused on four monitors.
Summary
A Japanese couple and their child move to a town in southern India. As the first and only inhabitants of the town of Omega, they prepare for the imminent arrival of their future neighbors. Little by little, the varnish of this normal life begins to chip. What if the others never get here? What if Japan has disappeared?

Refuge Omega tells this strange, apocalyptic tale. At the same time, it describes cinema's difficulties in giving shape to the story. The tale stops, starts, sets off again and doubles back on itself. Into a single narrative are entwined several possible versions of a single story, hitched to the undoubtedly contradictory and impossible construction of narrating the loss of a world.

Based on the real fantasies that a Japanese community settling in India projects onto the future construction of a Japanese town in Tamil Nadu, these fictional stories reveal the current and real anxieties weighing upon the durability of our earthly existence.
Favorite for the
BAL Price 2017
Finalist for the
Coal Price 2019
A l'origine de Refuge Omega, il y a la découverte, lue dans le journal japonais Yomiuri, d'un projet réel : « Le gouvernement japonais, en étroite collaboration avec des entreprises privées, va développer une zone résidentielle à grande échelle dans la banlieue de Chennai (ancienne Madras), dans le sud de l'Inde. Le projet consiste à «exporter» la ville toute entière (…) Ce sera le premier cas de développement urbain dans lequel sera exportée l'infrastructure d'une ville. Avec ses condominiums coûteux faisant face à l'océan Indien, le projet consistera à créer une cité de haut standing, dans laquelle les expatriés japonais pourront vivre avec leur famille. »
Nous sommes en 2012, quelques mois à peine après « le jour où le Japon a failli disparaître », comme le dira le premier ministre de l'époque, Monsieur Naoto Kan, quelques mois après la triple Catastrophe qui toucha l'Est du Japon le 11 mars 2011 et que l'on appelle en France : « la catastrophe de Fukushima ». Dans ce contexte, les premières interprétations que je trouve de ce projet, font de la ville, providentiellement baptisée Omega (la dernière), un refuge pour l'élite japonaise en cas de nouvelle catastrophe nucléaire. Entre Nouveau Monde et Arche de Noé, Omega m'apparaît comme une projection mythologique et futuriste de la fin des temps.
Refuge Omega est le troisième volet d'un projet protéiforme élaboré durant quatre ans. Il s'agit d'une installation vidéo qui tente de recomposer en un seul récit, les multiples versions d'une même histoire : celle d'un couple de Japonais avec enfant, premiers habitants de cette ville-nouvelle, qui préparent l'arrivée imminente de leurs futurs voisins.
C'est sur ces prémisses que j'ai proposé à une vingtaine d'expatriés japonais réellement installés en Inde, d'inventer les personnages et les rebondissements d'un scénario de migration étrange et apocalyptique.

Appuyées sur ce projet réel, ces histoires fictives montées à la manière d'un cadavre exquis, mettent à jour les inquiétudes avérées qui pèsent sur la pérennité de notre existence terrestre. Au fil des versions, l'histoire commence, s'arrête, part dans une nouvelle direction, change de point de vue, reprend encore puis boucle sur elle-même.

L'histoire ne semble jamais pouvoir trouver de dénouement. Le cycle de la conquête à la catastrophe s'enferme sur lui-même jusqu'à l'absurde.
At the origin of Refuge Omega is the discovery, read in the Japanese newspaper Yomiuri, of a real project : "The Japanese government, in close cooperation with private companies, will develop a large-scale residential area in the suburbs of Chennai (former Madras) in southern India. The project consists of 'exporting' the entire city (...) This will be the first case of urban development in which a city's infrastructure will be exported. With its expensive condominiums facing the Indian Ocean, the project will consist in creating a high-class city where Japanese expatriates will be able to live with their families. »
We are in 2012, just a few months after "the day when Japan almost disappeared", as the Prime Minister of the time, Mr. Naoto Kan, will say, a few months after the triple disaster that hit Eastern Japan on March 11, 2011 and which is called in France: "the Fukushima disaster". In this context, the first interpretations that I find of this project, make the city, providentially baptized Omega (the last one), a refuge for the Japanese elite in case of a new nuclear disaster. Between the New World and Noah's Ark, Omega appears to me as a mythological and futuristic projection of the end of time.



Refuge Omega is the third part of a protean artistic project I undertake over a period of four years. It is a video installation which attempts to recompose the multiple versions of the same story into a single narrative: that of a Japanese couple with a child, living at Omega. The first inhabitants of this new city, they are preparing for the imminent arrival of their future neighbors.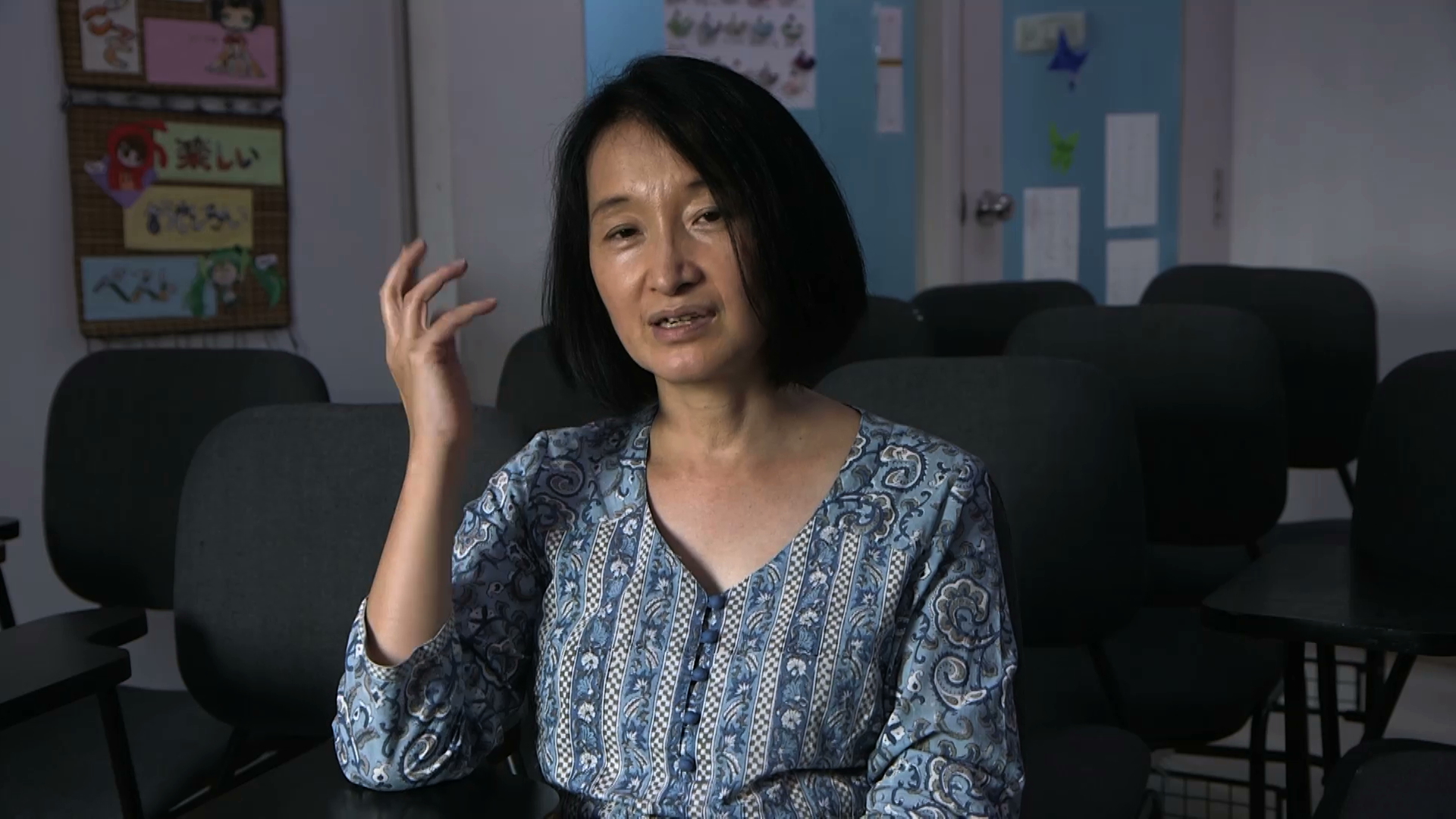 It is on these premises that I proposed to a score of Japanese expatriates really settled in India, to invent the characters and the twists and turns of a strange and apocalyptic migration scenario.

Based on this real project, these fictitious stories edited in the shape of an exquisite corpse, bring to light the current and proven concerns that weigh on the sustainability of our earthly existence. As each version is told, the story begins, stops, moves in a new direction, changes its point of view, begins again, and then comes full circle.

The story never seems to be able to find a conclusion. The cycle from conquest to catastrophe locks in on itself until the absurd.
L'installation

Pour le triptyque, j'ai proposé à quatre auteurs (metteur en scène de théâtre, antrhopologue, artiste et cinéaste) de travailler à partir des entretiens menés avec les expatriés japonais, à l'écriture de scénarios imaginant chacun à leur manière l'histoire de cette famille installée dans une ville-refuge en Inde.

Dans l'espace de l'exposition sont projetés sur trois écrans disposés en arc de cercle, plusieurs plans fixes tournés dans les rues vides d'habitation de la réelle et future ville d'Omega. Le montage des plans qui varie en fonction des récits reconfigure constamment la topographie de cette ville à venir. Le spectateur, placé au centre de ce carrefour, entend aléatoirement les quatre récits sonores qui peuplent ce territoire d'histoires et de personnages sans cesse changeant.

Ponctuant les différentes versions du récit, une femme indienne composant un ikebana (arrangement floral japonais) et un indien karateka, effectuent des gestes rituels, rendus mécaniques par la répétition.

Les entretiens réels sont quant à eux diffusés sur quatre moniteurs, en contre-champs des écrans et audibles grâce à des casques.

Ces histoires fictives, montées à la manière d'un cadavre exquis, mettent à jour les inquiétudes réelles qui pèsent sur la pérennité de notre existence terrestre. Chaque proposition est suivie jusqu'à son impossible dénouement et bifurque finalement pour former un grand circuit de ramifications incohérent, un jeu de recompositions infini et insoluble. L'absence de continuité est poussée au point limite où le spectateur ne sait plus quoi penser de ce récit sans queue ni tête et cherche vainement à identifier la fin ou le début de la boucle.

La combinatoire insensée qu'elles forment souligne finalement le besoin de récit, la nécessité de maintenir les éléments minimums d'une histoire possible, aussi fragmentaire et sinueuse soit-elle. Et c'est à ce besoin que répond l'autre versant de l'installation, le triptyque Citizen Omega.





Dans cette installation, la ville réelle et ses fictions s'entremêlent pour proposer des récits multiples d'exils et de fins de monde, entre Inde et Japon. Dans une même narration, se trouvent tissées plusieurs versions d'une seule histoire, plusieurs niveaux de réalités et d'imaginaires aussi, qui découvriront au fur et à mesure la difficulté de produire un récit linéaire de ce scénario apocalyptique.
Le récit, comme l'espace réel de l'installation, boucle sur lui-même. On ne sait si cette famille est réfugiée dans cette ville ou si elle n'a pas pu quitter un lieu contaminé, si toute cette histoire est déjà passée ou si elle préfigure les dangers d'une catastrophe à venir. L'histoire de ce couple, installé dans leur ville fantôme, semble évoluer dans un temps suspendu, attendant inexorablement la venue d'autres personnes qui n'arrivent jamais. L'espoir, toujours renouvelé de les voir venir et l'accumulation des dénouements apocalyptiques, les installe dans un En attendant Godot contemporain.
The installation
For the triptych, I proposed to four authors (theatre director, antrhopologist, artist and filmmaker) to write scripts based on these interviews made with the japanese expatriates. Each one imagining in their own way the story of this Japanese family, settled in a city-refuge in India.

In the exhibition space are projected on three screens arranged in semi-circle, several fixed shots of the empty streets of the real and future city of Omega. The editing of the shots varies according to the narratives and constantly reconfigures this future city. The spectator, placed at the centre of this crossroads, randomly hears the five sound stories (scenarios read by actors) that populate this territory of constantly changing stories and characters.

Punctuating the different versions of the story, an Indian woman composing an ikebana (Japanese floral arrangement) and an Indian karateka, perform ritual gestures, rendered mechanical by repetition.

In parallel the real interviews are broadcasted on four monitors and audible thanks to headphones.

These fictitional stories, edited in the manner of an exquisite corpse, reveal the real worries that weigh on the durability of our earthly existence. Each proposal is followed until its impossible denouement and finally forks to form a great circuit of incoherent ramifications, an infinite and insoluble game of recompositions. The lack of continuity is pushed to the limit where the spectator does not know what to think of this story without tail or head and vainly seeks to identify the end or the beginning of the loop.

The senseless combinatorial that they form finally underlines the need for narrative, the need to maintain the minimum elements of a possible story, however fragmentary and sinuous it may be. And it is to this need that the other side of the installation, the triptych Citizen Omega, answers.

In this installation, the real city and its fictions intertwine to offer multiple stories of exile and the end of the world, between India and Japan. In the same narrative, several versions of a single story are woven together, as well as several levels of reality and imagination, which will gradually reveal the difficulty of producing a linear narrative of this apocalyptic scenario.

The narrative, like the real space of the installation, finally closes in on itself. We don't know if this family is a refugee in this city or if they have not been able to leave a contaminated place, if this whole story has already passed or if it foreshadows the dangers of a future catastrophe. The story of this couple, settled in their ghost town, seems to evolve in suspended time, inexorably waiting for others who never arrive. The ever-renewed hope of seeing them coming and the accumulation of apocalyptic denouements install them in a contemporary En attendant Godot.